Nokia Sleep review: No reason for hype over smart home controls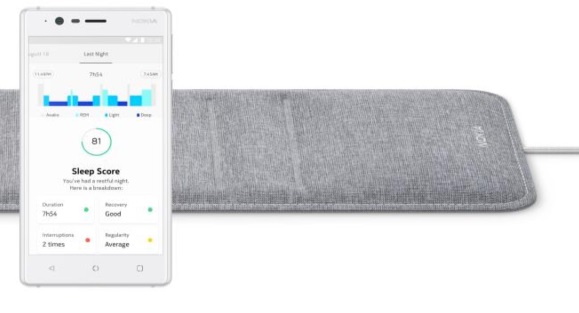 In 2017, Nokia took over the Withings brand, inheriting products like the WiFi Body scales, and Activité watches. The Aura, a bed sensor & lamp designed to track sleep and shine shades of light to aid sleep, was discontinued.
Summary
As a sleep tracker, the Nokia Sleep bed sensor is fine, but it's decidedly disappointing when it comes to smart home integration. It was a little buggy, didn't fully utilize the device's sleep pattern sensing abilities, and didn't come equipped with the simplest of features – an alarm. Ultimately, it doesn't seem that the Sleep does much more than other sleep-tracking apps or sleep trackers.
In early 2018 Nokia announced Aura's replacement: The Nokia Sleep. Although lamp-less, it's fairly similar to the Aura. It supports IFTTT, a toolkit allowing 2 or more devices to interact in simple ways. As an example, you could set the IFTTT to turn off lights once you get in bed, or turn up the thermostat when you wake. Smart home features are a main selling point, the device's full name being the 'Nokia Sleep and Home Automation Sensor.'
Sounds good in theory, but I soon found out that it falls short. The integration of the IFTTT is a little buggy, and it doesn't add a whole lot.
While plenty of sleep trackers are worn on the wrist, the Nokia Sleep is a soft rectangular pad which slides underneath your mattress. Set up is that easy – just ensure it's aligned roughly at chest level when lying down. The power cable should be the only thing sticking out from the bed.
You'll need to pair the Sleep with the Health Mate app on your phone. Select 'Install a device' in app, chose the Nokia Sleep, and you'll be guided through installation. During calibration the Sleep pad whirs for roughly 10 minutes. You're not meant to disturb the pad during this, so set up well before you intend to go to bed.
I've had terrible sleep habits since I can recall. Watching cartoons late as a child, rudely awoken hours later and dragged to school. This pattern continued into adulthood, and despite some behavior corrections such as earlier bed times & less coffee, I sometimes revert due to stress or deadlines. Finding wrist-worn trackers uncomfortable, I was intrigued to see if the Sleep would work for me.
Firstly, I set up IFTTT to connect my Sleep with my Philips Hue lights. I opted for a pre-made Sleep 'applet' (tiny programs with 1-2 functions) from the IFTTT site that would turn off lights once in bed. I turned it on, connected the Philips & Nokia accounts, and lay down in bed – and nothing.
The applet stated it would take a few seconds to trigger, but 10 minutes later the lights were still on. I checked apps were up to date, disconnected & reconnected, & checked IFTTT settings. The IFTTT applet had a default start & end time of 7pm-11pm, so my 10pm sleeptime was fine.
I assumed the Sleep sensor wasn't working, and nodded off. In the morning, I noticed my sleep patterns had been tracked, so the sensor was fine. For days I was puzzling over this, as this was one of Nokia's defining features. Nokia support wasn't much help.
After coming across a Reddit forum suggesting the start/end times were at fault, I turned them off and it finally worked. It still took a couple minutes, not seconds, to trigger, but it worked.
Other applets were tried, such as triggering Google spreadsheets to log when I went to bed, and getting Hue lights to glow a pinkish tone when I awoke – all worked as intended. Integration with Amazon Echo Spot (non-IFTTT) also worked, and allows you to ask Alexa how you slept last night.
However, I'm not convinced on the usefulness of these integrations. I can easily adjust lights since Hue is Homekit-compatible. A simple 'Hey Siri, good night' works fine. Sometimes I want the lights on to read in bed. Instead of asking Alexa, it's far easier to just open the app and view my sleep patterns.
I'd prefer Sleep to adjust lights on or off depending on my sleep cycle – slowly dim as I fall asleep, or work with a speaker to play me a lullaby. It could brighten a room or play a tune when it's time to wake. Studies have shown alarms are best when they go off during lighter sleep stages, allowing you to wake more rested.
Of course, the Sleep doesn't have an alarm – at all. This seems like an oversight seeing as the Aura & Nokia's own Activité both did. The Sleep sensor doesn't have a speaker, but it could have added alarm functionality to work with IFTTT-connected devices. Alarm functionality is present in practically every other sleep tracker.
As a sleep tracker, the Nokia Sleep isn't perfect. It will track sleep patterns, light/deep/REM sleep, duration of sleep, time to drift off, interruptions, and sleeping heart rate, ultimately providing a Sleep Score.
However, the sensor can be hit or miss. It would occasionally track YouTube watching or reading a book as sleep, and wouldn't account bathroom visits. The occasional afternoon nap would be bundled in with the whole day's sleep, skewing that night's score.
I did enjoy a few things about the Sleep such as setting reminders (to avoid caffeine, or to drink tea before bedtime.) The opt-in Sleep Smarter program offers an eight-week course to improve your sleep.
All this is not too different from what other sleep gadgets already offer me though. IFTTT integration is what sets the Sleep apart, and that was decidedly underwhelming – not worth the $100 retail price.
Product support length is also unclear, with Nokia announcing selling the Digital Health division back to Eric Carreel, WIthings co-founder. Nokia promise assistance beyond sale, but the length of time remains uncertain.
Either way, I'd advise against the Sleep. It's like other sleep trackers, and possibly a bit worse. Missteps like the lack of alarm, poor smart implementation make this a missed opportunity. Like Nokia's Withings purchase, the Sleep ends up a disappointment.